WordPress installation step by step guide
WordPress is a well known CMS platform for websites. WordPress installation is very easy and simple. For installing WordPress in your localhost environment or on your hosting server you need to follow almost the same steps.
In the initial step you need to download the latest version of WordPress. Once you got the zip of WordPress installation files then move on to the installation process as follows.
1. Browse to the root folder of your server where you want to install WordPress. Unzip the file inside that folder. After unzip you will see a folder named WordPress (if you don't see any such folder, refresh the page and it will be visible). This folder is having all required files for the WordPress installation.
Now move all these files and folders to the main folder where you want to install the WordPress and remove the empty folder.
If you want to install WordPress on your root domain the directory structure will be something like this
/public_html/your installation files and folders here
If you want to install WordPress site in a subfolder then it will be something similar to this –
/public_html/Sub_directory_as_required / your installation files and folders here
2. Now create a MySQL database for your WordPress. Create a user and assign this user to this database with full privileges. Note down the credentials while creating the database, we will need these credentials of user and database names and passwords in a later stage.
3. Now open the web browser and type your domain name ( Site URL in address bar ) as per your installation. Like if you are doing installation in the main domain then use http://yourdomain_name.com or if you are doing installation in a sub directory then type http://yourdomain_name.com/sub_directory. When you visit that URL you will see a language selection page like this.
Here you can choose a language and the rest of the installation will be displayed in your selected language. If not sure, use English for now and press the continue button to proceed.
4. On the next page you will see some installation instructions. It is just a confirmation that you have all the required details of database and database user password.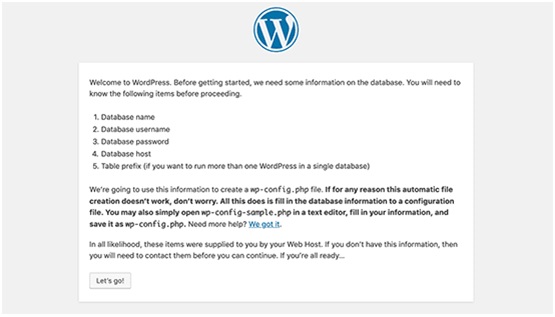 Click on the 'Let's go' button to continue.
5. On the next page you need to fill full details of the database including username and password which we have created previously.
Fill all these details and click on 'Submit' button. WordPress will show a success message after connecting to your database and a button named Run the installation will be visible.
Click on 'Run the Installation' button to continue for installation.
6. On next page it will ask to fill some details for creating an admin user for this WordPress installation. Fill all these details like username and password with a valid email address.
If your site is under construction and you don't want to index it yet then you can check the box next to search engine visibility. Once your site is ready you can change this from WordPress settings. If you are not sure what to do, leave it unchecked.
Now click on the Install WordPress button to continue. WordPress will set up your website and finish the installation process.
Once the installation process finished you will see a success message showing username. With this your WordPress installation is complete. Now click on the Login button to sign in to the CMS of your WordPress site.
Now your WordPress website installation is ready for use. You can always customise it by using different themes and plugins and you can get your required website design. You can install any theme from CMS and can also add it by uploading WordPress theme zip files.
You can create a website as per your requirements like an online store or a simple business website , a web application or may be a simple blog. Control panel of WordPress CMS is easy to use and designed for better user experience. Hosting companies also provide one click installation and you need not to install WordPress manually if you know the process